Today I'm co-hosting a new weekly link-up!  Faith over at The Life Of Faith started a link-up called Mommy Moments a few months ago, and I've been enjoying linking up with her the last few weeks - I've already met several new bloggers through her link-up!  So when I heard she was looking for a co-host, I jumped at the chance!
If you don't already follow Faith's blog, you should.  She got married a year and a half ago, and now she is expecting her first baby - a girl, a couple weeks ahead of me!   I also love how she writes about wanting to do her best to bring God glory through her blog (because that's my ultimate goal for this blog too).  Her blog is also genuinely fun to read!  Click here to read more about her.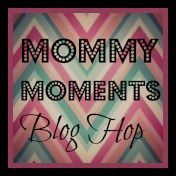 Mommy Moments is a link-up for posts that have anything to do with being a mom.  So pregnancy updates, updates on kids, fun stuff you did with your kiddos, recipes or crafts (kid related or not), any thoughts on motherhood - anything that fits with being a mom!
Are you trying to conceive?  Write a post about your hopes/dreams for future kids, thoughts on being a mom someday, thoughts on the wait or your journey to becoming a mom . . . or indulge for a bit and show us what you would do for a nursery, how you want to dress your babies - anything you want!
And if you aren't a mom (and aren't trying yet)?  You can link up any posts that you think would be encouraging to moms - recipes and crafts, encouraging devotionals, inspiring thoughts - anything you think would be applicable!
Mommy Moments is one of those easy link-ups to participate in - you don't have to post on Monday, you can pick any post from the previous week that fits!  
To link up just . . .
1. Follow The Life Of Faith and Through Clouded Glass blogs.
2. Decide what post from the past week that you would like to share and add the Mommy Moments button or a text link-back to your post.
3. Come back here and add the direct link for your post to the link-up below!  Make sure it's the direct link, not just the link to your home page.
4. Explore some of the other posts in the link-up and say hello to some new blog friends!  At least two other posts would be great.
And that's it!  Alrighty, link-away!