So I had such fun co-hosting the link-up last week! I attempted to visit all the blogs who linked up, but I know I didn't succeed - I think I got to at least half of you though, and I loved reading all your motherhood-related thoughts!
Two posts that I especially enjoyed were
"Enough!" from Simply Helping Him
, and
"Tied Feet" from The Cadence of a Conquering Housewife
. And
this post from Big A little a
was just funny!
If you didn't get a chance to link-up last week, I hope you'll play along this week! Review the information below and then link up your posts at the bottom of this post!
-----------------------------------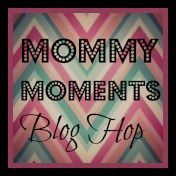 Mommy Moments is a link-up for posts that have anything to do with being a mom.  So pregnancy updates, updates on kids, fun stuff you did with your kiddos, recipes or crafts (kid related or not), any thoughts on motherhood - anything that fits with being a mom!
Are you trying to conceive?  Write a post about your hopes/dreams for future kids, thoughts on being a mom someday, thoughts on the wait or your journey to becoming a mom . . . or indulge for a bit and show us what you would do for a nursery, how you want to dress your babies - anything you want!
And if you aren't a mom (and aren't trying yet)?  You can link up any posts that you think would be encouraging to moms - recipes and crafts, encouraging devotionals, inspiring thoughts - anything you think would be applicable!
Mommy Moments is one of those easy link-ups to participate in - you don't have to post on Monday, you can pick any post from the previous week that fits!  
To link up just . . .
1. Follow the host, Faith,my blog, and the other co-hosts! See Faith's blog for a complete list of the new co-hosts
2. Decide what post from the past week that you would like to share and add the Mommy Moments button or a text link-back to your post.
3. Come back here and add the direct link for your post to the link-up below!  Make sure it's the direct link, not just the link to your home page.
4. Explore some of the other posts in the link-up and say hello to some new blog friends!  At least two other posts would be great.
Link up your posts below!