(Quick note - Post inspired by Amanda's beautiful 12-Minute memoir yesterday. I forgot how much I like doing these, and it's so much easier to fit in before the kids wake up. I'm getting my prompts here. Thanks Amanda! Also, picture is from somewhere else where they actually have those magical flowering trees.)
6:46 AM
When I think of spring I think of one thing: mud.
I've lived in the mountains my whole life, and in the mountains spring is an endless cycle of snow which turns to mud, which is covered by more snow. Even the springs that break form (like this one) are brown and grey in the mountains, with very little color. We wait and wait, until suddenly, all in a flurry at the end of May, it goes from spring to summer in one week.
When I was a child I never understood why people liked spring. When I became a young adult I started to realize that other places had flowers, flowering trees even. And well, if you have a spring like that, it makes sense why you would like it. But in my mountain world, spring is the ugliest season.
Mountain springs haven't changed that much since I was a kid, but while I used to hate the season, I don't anymore. It's still brown and yucky, but I notice the green grass poking through the ground, hidden behind the yellowed leftovers from last year. As my kids' feet pound the floor above me way too early in the morning, I realize I also hear birds singing an endless song outside the window. I walk over to let our big hound mix outside, because he won't leave me alone until I do, and I hear squirrels chattering and I breathe in the cold, wet smell of melting snow.
Spring will always smell like that to me. Not like flowers, or green grass. Like mud and melting snow.
There is life out there, new life stretching up, peeking around the corner, sitting in the tree branches. I never noticed that as a kid, but I do now. Now that I've felt new life in my womb, held it in my arms, and had a few more Resurrection Days under my belt, spring holds a bit more significance.
So even these muddy, ugly springs are beautiful after all. I look out my window and can see the echoes of God's words in Genesis - even here, in the mud.
"It is good."
6:54 AM
Is it cheating if I do a fall Q&A as part of my memory-keeping series? I'm going for it, because this morning has been rough, and I'm not sure I have much more than a survey in me today. Stealing this from
Bekah
, but I modified it a bit to add a memory-keeping flair (and to extract the Halloween-related questions, since we don't celebrate Halloween and I have nothing much to say).
1. Favorite Fall Sweet Treat? I have a special fondness for candy corn and apple cider. When I was a kid my dad would harvest our own hay for our horses, and we kids always helped. We'd dress in our old, holey jeans, grab some leather gloves and hay bale hooks, and the whole day was spent getting filthy dirty, throwing bales into the truck and stacking them in our barn. When we took a break, we'd head inside and my mom would have candy corn and spiced apple cider for us to drink, which made the whole thing less like work and more like a fall tradition. So yes, candy corn and cider.
2. Red, Yellow or Green Apples?
To look at - Red Delicious or Pink Lady, because those are the prettiest. To eat raw - Fuji apples, which are yellowish!
3. Favorite Fall Sport to Play?
Is there really any other fall sport besides football? I am not really a sporty girl. Does hunting count as a sport? Because then I'd say hunting. I come from a long line of hunters, and growing up we would hunt for elk and deer and live off the meat all winter. I haven't really been very often since I've been pregnant for so many falls over the last seven years, but Derek is off attempting to restock our freezer right now.
4. Best Drink for Fall? I really love Celestial Seasonings fall teas, but I unfortunately can't drink them while pregnant!
5. Favorite Fall Activity?
From my childhood, the aforementioned hunting and haying activities always made it feel like fall. I'd say in general though, my favorite fall activity is going on a hike somewhere with aspen trees - there is nothing like the smell of aspen leaves in the fall. They have this spicy, woodsy smell, and it reminds me of my childhood. My family was big into everything fall, and it was a busy, fun time of year for us, with the scent of spicy aspen leaves always in the background of my memory. If I could bottle up the scent of aspen leaves in the fall, I would be a happy girl.
6. Must have Fall Purchase?
Candy corn, white mini pumpkins, and I have to admit, new boots/booties or scarves always tempt me this time of year.
7. Pumpkins: Pick your own or store bought?
Store bought. I'm not sure I've ever actually bought a pumpkin from a patch. They are cheaper from Walmart anyway!
8. Real or Fake Pumpkin?
I have no preference. But I do hate when pumpkins start to rot, so fake pumpkins seem safer.
9. College Football or NFL?
This seems like a politically charged question right now, but I can honestly say college football takes precedence in this house. Derek has been a fan of the Buffs since he was a child, when his dad took him to his first CU game at six years old. Derek took Wyatt to his first game this year since he turned six, so we're passing the tradition on!
10. Favorite Fall Memory? Definitely hunting with my dad. I started hunting big game with my dad when I was 12 years old, and I got my first elk. It was exciting to get something, but the best part was just being out in creation with my dad. I especially liked going in the morning, because it was always fun to catch the sunrise, and the early morning air in the fall was so invigorating. I always remember my dad saying he feels most alive in the fall, and I feel the same way...I think my memories of hunting are a part of that feeling, because of the early mornings in the beauty of fall and the crispness of the air. And then of course, taking snack breaks for Nut Rolls and Gatorade (those things never tasted so good as when we were hunting, let me tell you).

11. Raking Leaves or no Leaves to Rake? To my children's mortification, we don't really have any rake-able leaves where we live in the mountains. They so badly want to jump into a pile of leaves, but any piles that are raked here would end up being a rocky, muddy mess!

12. Favorite Soup?
In general, I love potato soup, but in the fall I'm a fan of pumpkin soup! I found a recipe and made it for the first time after Derek and I were married, so it brings back good memories. He, unfortunately, is not a pumpkin soup fan so we don't have it much. But I like it!
13. Favorite Fall Candle scent?
Autumn Leaves, which is a Yankee Candle scent. It smells woodsy and spicy - not as good as real aspen leaves, but I still love it!

14. Love or Hate Pumpkin Spice?
This feels like a complicated question - it depends on what we are talking about. I like the actual spice in theory, and I love pumpkin flavored things in the fall. But pumpkin spice lattes, for example, are generally just okay to me.

15. Short Booties or Tall boots?
For early fall, definitely booties because my feet get too warm in regular boots. In late fall and winter, I like both!
16. PSL (Pumpkin Spice Latte): YES or NO?
Again, just kind of okay to me. I always feel like I have to have at least one in the fall, but I generally like other flavors better!

17. Hayride or Corn Maze?

Corn maze! You get

a lot

more time out of a corn maze than a hay ride.
18. Favorite Fall TV Show?
I generally hate most things on TV these days. The things that I feel like watching most in the fall are: Gilmore Girls, Anne Of Green Gables, and
You've Got Mail.
Please feel free to grab the questions for your blog, or answer your favorite ones in the comments!
I love these getting-to-know you surveys!
Somehow June is almost over, and it still doesn't quite feel like summer around here. The weather has been so weird. It's barely rained at all, so everything is looking dry and brown - but it hasn't been the typical summer-warm either. It's like the rain is just hovering in the air, but can't get it together enough to actually
do
something. I bought a kiddie pool for the kids, but it hasn't felt consistently hot enough to break it out yet.
The point is, June went by in a flurry and I still feel like I'm waiting for summer to really get started. We did do some fun things though.
My Birthday
Those of you who follow me
on Instagram
probably saw my birthday celebration day posts, so this may not be news. Derek took us all on a hike/picnic, and then we dropped the kids off with my mom so Derek and I could go to a movie. I'll be honest, I wasn't sure if I wanted to waste my birthday date on a movie, because I haven't seen one I really liked in about two years. Everything (that's not based on a true story) is either too depressing, too politically motivated, or the character and plot development is seriously lacking. Hollywood needs to get it's act together.
But we saw Guardians Of The Galaxy 2, and aside from a few crude jokes, Derek and I really liked it! It is rare to see a movie we actually enjoyed these days, and I was so happy it happened on my birthday date.
On my actual birthday, Derek brought home cheesecake, the whole family lit candles and sang me "Happy Birthday", and then I got my present - a Kindle Paperwhite! I was very excited about this, because it's nearly impossible to read a Kindle book on my iPad out in the sun. Now I can read ebooks while the kids play in the kiddie pool (if the weather ever heats up enough to use the kiddie pool)!
Father's Day
For Father's Day we went to church, and then came home and had a campfire. I bought Derek a couple books and a new game called
Ticket To Ride
. We played it with our friends the other day, and it's a really fun one! I lost, because I didn't have the strategy part down yet, but I have high hopes for next time.
Parks And Books
Aside from that, we've had a lot of park days with friends this month, to the point where I have given up getting a five-day week in with our summer homeschooling schedule. If we can get 2-3 days in per week I'm pretty happy, and we'll pick up the pace in the fall. I wanted to try to get ahead before the baby comes, but on the other hand, it is summer, and I think we should enjoy the weather and everyone's scheduling freedom while we can.
I've also been trying to catch up on some reading in June, and I'm currently on a Jane Austen spinoff kick. I started
Persuasion
and I am really enjoying it, and I've read
Jane Of Austin
, and
Austenland
. Full reviews
on Goodreads
, but it's been fun so far! I'm feeling the itch to switch genres again though, and I think I'm going to read a middle-grade novel next, in between all the non-fiction books I have to finish.
That's all that's new around here, until Monday
when we find out baby's gender
! Then I'll have to get busy putting together our gender reveal party plans (we have a fire ban on now, which may mess up our party a bit...I'm hoping it'll rain so they'll lift it again). If you haven't filled out
this form with your guess yet
, please do, because someone who guesses right will win a little prize from me!
Now to just get the next four days to go by faster...
In one way or another springtime here always disappoints me.
I used to truly hate springtime, mostly because where I live the season inevitably means one thing - mud. Lots and lots of mud. However, springtime in the mountains has started to surprise me. The last couple springs have been unseasonably warm, with blue skies and flowers that have started to sprout early.
This last week I thought we may be in for another uncharacteristically nice spring, but I'm still on guard because the air as I type this on Saturday has a bit of chill sneaking back in. So even during "nice" springs, you just never know when we will be right back to winter. I'm dubbing it the springtime blues. You are happy that the weather is so beautiful, but you are sad because you know it's not going to last that long.
It's an emotional roller coaster, I tell you.
In-Between Seasons Clothing
Regardless, I thought I'd just talk today about transitioning from winter to spring, in more ways than one! First clothing, and in particular, shoes. I am so happy that laced suede flats are a trend right now, because I think they are perfect for those transition seasons, when you don't really know what to wear.
Floral Tank: Papaya
Drapey Utility-Inspired Jacket: TJ Maxx
Jeans:
JustFab
(my referral links here)
All About Birding
For the uninitiated, "birding" is the modern term for "bird-watching". Don't let a birder catch you saying "bird-watching", because I hear it's a major faux-pas. I've mentioned before that one of my favorite movies is The Big Year, and every time I watch it I get in the mood to break out my binoculars and find some birds. Last year when we went to Yellowstone was when it started, because there were so many varieties of birds there. I saw an American White Pelican! I don't think I've seen a pelican in my life before that.
As if I needed another reason to just give birding a try, I saw in one of my homeschool Facebook groups that the Great Backyard Bird Count is starting right now. This is a citizen-study put on by Cornell every year. It helps them gather information on bird migration patterns, and it helps citizens (like me) get outside and identify some birds. I decided we would participate and incorporate it into our school days.
Our first day out was not overly successful. I heard a chickadee and saw a Dark-eyed Janko. But to be honest, I was just guessing as to what bird it was. I poured over websites and books for almost an hour trying to figure out what it was that I saw. It was a 7-9 inch bird with a chestnut-colored back, and blackish and white tail feathers. I settled on the Janko, because it's very common and also the only bird that even vaguely fit that description.
I'm sure I'll get better at this whole thing eventually and won't have to spend an hour identifying each bird, right?
The Book-Buying Urge
Even though I wouldn't say spring has officially started at all, this spring-like weather is conjuring spring-like thoughts. Spring makes me think about saving money for the homeschool conference, and preparing for next school year (oh, the life of a homeschool mom), which makes me think about picking curriculum for first grade (even though we are still in the midst of kindergarten). And since I am an eclectic homeschooler with an emphasis on "living books", it makes me want to buy books for the kids.
My Usborne party was a declared success, and I have a big 'ole batch of books coming my way from them soon (more on that when they arrive!). Last Saturday I also took a shopping trip by myself, and there is a local thrift store that has a particularly good selection of books. Seriously, every time I go there I find a bunch of classic children's books. I am baffled. Who is giving away all these good books? I must be in a sweet-spot, surrounded by parents with kids just a little older than mine who give all their good children's books away to this one thrift store. This is my haul (excuse the fact that I'm talking so fast, Derek was waiting for me and I was in a rush!).



I may have gone a little overboard. It's hard not to do when you can get each book for $1.50 each! This batch of books would have cost me at least $160 on Amazon, and that's if I bought each one of them used.
Old School Blogger Shout-Out
Just one today, for the sake of time! Alex from Inspiration Clothesline is a long-time blog friend. Go check out her most recent post where she announced being pregnant with her FOURTH baby! So cute!
What I'm Drinking:
Still to be determined. Coffee? Peppermint tea? Something that will wake me up and give me energy for our homeschool playdate this morning.
As I sit typing this post about my spring wardrobe, it is snowing outside (not an April Fool's joke, I promise). This is not unusual where I live.  For years I was so puzzled about why people like spring, because I associate the season with cool days and mud from all the melting snow.  We have gotten blizzards in May before, and let me tell you, you do not know snow until you have experienced a wet, springtime snow.  It is the best snowman-making material there is, if only I was actually in the mood to build a snowman.
Fall is upon us, my friends!  For our little family, that means squeezing in as much fun as we can in these last couple weeks before we add another little one to our family!  And what is more fun for the fall than eating lots of autumn-flavored goodies?
Today I have for you one fall fudge recipe, one fall children's book, and two giveaways!  Throw in some candles and cool weather, and you have a perfect early fall afternoon!
I was under the impression that August was National Watermelon Month, or something like that.  It only seems appropriate, since August is the last month of summer, and hence the last month that watermelon will be available.
We are still on vacation, enjoying our last days on our camping trip! You can see everything we are up to by following me on Instagram. I'll be back early next week with a (late) pregnancy update, but for now enjoy this post by one of my blog friends, Keri, on her favorite items for beach trips! She is the person to write to you about this, since I don't have much beach experience in my land-locked state...
---
Hello, my name is Keri and I share over at
Living In This Season
. I am a mama to three little ones (ages 6, 3, and 1) and wife to my husband of almost 10 years. I love connecting with others and sharing about living life fully in our current seasons of life. Stop on by and say hello!
Summertime is one of my favorite times of the year. We live in South Carolina near the coast so are grateful to have what seems like an extended summer. The beach is one of our favorite places to go as a family and I have found a few products to be absolutely necessary for our beach trips.
Sunscreen-
I have loved using
Babyganics Mineral-Based Sunscreen
. It is perfect to use for the whole family and provides plenty of protection.
Headband-
Recently, I was given this headband from
Mag Soul Shop
to try out and I am loving it. It easily holds back my hair and all those fly aways I have. They have so many cute headbands- see more
HERE
.
Flip Flops-
Honestly, I probably wear flip flops the majority of the time. My sister convinced me to try
Reef flip flops
and I am loving them so far. They are so comfortable and cute.
Umbrella-
As much as I love the sun, it is really nice to have some shade when you are at the beach as a family. I have seen a lot of people using
these umbrellas
and wonder if it would work better than my regular old one from CVS...
Water & Snacks-
What is it about the beach that makes me so hungry?! We always have some snacks to take to the beach along with plenty of water. I am currently looking for a good water bottle- any favorites?
Sand Toys & Fun-
My kids love having some sand toys to bring along. I have learned to just bring a few items because most of the time they end up playing with the drift wood and shells. It is also so important to go to the beach ready to have some fun as a family. Some beach trips end up being filled with some tantrums or tears, but I try to enter the time ready for whatever. It is always a choice in how I react to the circumstances- joy or anger?
What are some of your favorite beach necessities?
Note From Keri:
This post contains Amazon Affiliate links, to read my disclosure policy go
HERE
.
1. Mornings go better when you start with Bible time.
I used to always do my personal devotions in the morning, but somewhere between the first child and the third, the desperate desire for sleep took over. For the last couple years I have been letting the kids wake me up in the morning. When I do that, I have to jump right into dressing and feeding three little people, and by the time I am finished all thoughts of finding a quiet place for morning devotions have evaporated from my mind.
I have been trying for the last month to do better about getting up before the kids come traipsing into my room in the mornings. Even if I only beat them by fifteen minutes, I feel so much more rested and in control of the day when I start with a quiet time with the Lord. And on the days when I succumb to temptation and hit snooze, I can tell the difference.
2. Flowers on a kitchen table bring the whole room to life.
Why have I not been buying fresh flowers for the kitchen table for years? I was forced into buying some flowers earlier this month, then I was given some flowers for my last day of work (that's a whole other story - I'm sure I'll be telling you all about it soon). Between those two bouquets, there have been flowers on the table for most of the month - and I love it! It has brought a little springtime into my life while I wait for the outside to catch up. Pink flowers are my personal favorite, even though they don't go with my dining room colors.
3. Current country music stinks.
I used to be a fan, I really did. Back when all the greats were in their heyday, when they sang about family and love stories and hometowns and love of country. But now every time I take a chance and turn the dial to a country station, all I hear about is drinking and hooking up and revenge and how some girl looks in tight jeans. No thank you. Let me know when country artists grow up again and use their words to portray something other than hormonal teenagers.
Scotty Mcreery, you are the one exception that I can find right now. Stay wholesome.
4. That whole "hot coals" thing works.
Here is the verse, just in case it's been a while since you've read it.
I am not going to go into the whole story, but let's just say I felt a little wronged by someone recently (not my family, so don't think that). So I bought them food, just because, and you should have seen how nicely I was treated after that. Now don't go heaping coals on anyone's head expecting anything in return, because you won't always get seeming evidence of a change of heart. But you know what you will get? A reward from the Lord, and that is something special. Scripture is true, guys.
P.S. I love Proverbs.
5. You can have a "midlife crisis" in your twenties.
I always think of a midlife crisis as a time when you are having an identity crisis. Identity crises are not always tied to aging; they can happen any time a part of your identity is threatened or removed. I have been a little lost the last month or two, because I feel like part of who I am (dental hygienist) is no longer as certain as it has been for the past seven years. And this is a whole post that I have in my drafts, so stay tuned.
6. I have a book problem.
I am in the process of redecorating our room, and we bought a new bed and nightstands, which forced me to remove all the books from the "to-read" pile that had accumulated in my old nightstand.
Those are all the books I have yet to read. And yet I still keep buying more. And signing up for more reviews. It's like a sickness.
7. Springtime doesn't have to be so bad.
Usually I am not a fan of springtime, at least not where I live. The mountains get yucky and muddy this time of year. Spring has always been my least favorite season. However, this could be the year that changes my mind about springtime. It's been
gorgeous
outside for most of March and April, which is highly unusual. Despite the fact that the lack of moisture (i.e. snow) is concerning, I have to admit that I am finally starting to see the appeal of springtime. It's pretty exciting to see God's creation come to life like it has this year, and it makes me appreciate His creativity more!
Did you learn any lessons in April?
(Also linking up my lessons with Chatting At The Sky.)
----
I am so thrilled to be co-hosting the
Faith and Fellowship linkup
with
Susannah from Simple Moments Stick
! I have been following Susannah's blog for a few years, and she now has an adorable five month old boy. She and I also have a mutual real-life friend (hi Ashley!), and when I realized this, the song "It's A Small World After All" might have played in my mind.
It's been so fun to watch Susannah's family and blog grow as I've been following over the years, and her Faith and Fellowship linkup is one of my favorites (and one of the few that I've actually participated in since Clyde has been born!
If you have written any faith-related posts in the last week or so, this is the linkup for you! Check it out!
Faith and Fellowship Guidelines
1. Link up a post (not just the link to your blog) from the week that shares what the Lord's been doing in your life or speaking to you.

2. Put the button on your blog post or blog so that others can hear about this wonderful group of Godly women.

3. Visit as many blogs as you're able and get to know your sisters in Christ!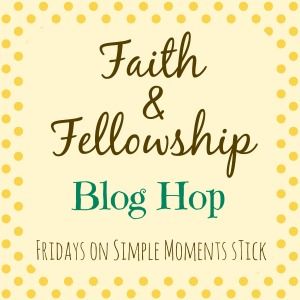 Susannah from Simple Moments Stick
This Week's Cohost:
My name is Callie, and I blog at Through Clouded Glass about a variety of things, like pregnancy, motherhood, DIY attempts, and recipes. However, my main goal for my blog is to share my faith in Jesus Christ through what I write and to encourage other women to focus on their impact for eternity, even through the day-to-day (and sometimes mundane sides) of life.
Last Week's Most Viewed Post:
Life on the Parsons Farm
Infertility: What to (NOT) Say
Spoons of Grace
Work: The Struggle is Real
Susannah's Blog Post Pick:
Made to Bloom
Confession of a Busy Mom
If you'd like to cohost in the future, please email Susannah at susannah.kellogg (at) gmail.com
Every year during the month of November I think to myself that I want to share this quote. And every year I forget until well into December. I almost didn't share it this year, because for the most part this November has been of the fretting variety, not the growing old gracefully variety. But I thought I'd share it anyway, rather than waiting another year. November never feels like it's fretting to me, it always feels like the year is growing old gracefully, so I think this quote is perfect. If you have never read the Anne Of Green Gables series, you are missing out.
--------------
In the late fall of 2008 I was a newlywed, and as the holidays approached I was determined to find some new recipes to try for Christmas - recipes that could be "mine" and would become a tradition for our then family of two. That was when I found a caramel fudge recipe that has become the bane of my fudge-making existence.
The first time I made it, it was a success. It was the perfect texture, the perfect taste, and we loved it! I was excited that I found such cool recipe.
Every time I have attempted to make it since then, it has been a colossal failure. It usually ends up being a plate of sticky goo that never sets. I have made it so many times, and I cannot for the life of me figure out what I am doing wrong! I don't even want to know how much sugar, milk, and corn syrup I have wasted trying to replicate that first plate of caramel-y goodness.
However, I think I have finally figured out a way to use my plates of sticky goo! The other day I was in the mood for some caramel popcorn, the kind that is a little more chewy, less crunchy. After a little experiment, I stumbled upon a yummy concoction!
This recipe for Pumpkin Pie Spice Popcorn uses that caramel fudge recipe with some adjustments. And despite my caramel fudge always turning out spectacularly wrong, this popcorn turned out great!
Pumpkin Pie Spice Popcorn
1 bag of popcorn, popped (either plain or buttered is fine)
1 1/2 cups sugar
1/2 whole milk
1/8 cup (ie. 1/2 stick) margarine, melted
1 tbsp. light corn syrup
For the pumpkin spice mixture:
1/4 cup sugar
1/4 brown sugar
1 tsp. pumpkin pie spice
1. Pop the bag of popcorn in a microwave, then pour into a greased bowl or dish. Set aside.
2. Mix together the ingredients for the pumpkin spice mixture. Set aside.
2. Brown 1/2 cup of the sugar in a saucepan. (If you don't know how to brown sugar - just let it sit on the heat until it melts. Make sure it doesn't burn.)
3. Slowly add in the milk. The sugar will sizzle and harden into a lump ( I haven't figured out a way to avoid this). Don't freak out. Just keep stirring while the caramel cooks to encourage it to dissolve.
4. Add the margarine, 1 cup of the sugar, and corn syrup. Heat over medium high heat until mixture gets to soft ball stage. (The soft ball stage is when you put a little of the mixture into cold water, and it solidifies to the point where you could form a soft ball with it if you wanted to.)
5. Remove from heat and beat mixture until cool. Add three tablespoons of the pumpkin spice mixture to the caramel mixture and mix well.
6. Pour caramel mixture over the popcorn and mix to coat the popcorn. Sprinkle the remaining pumpkin spice mixture over the popcorn.
And that is it! This popcorn has a great, fall-ish taste to it. It would be perfect to much on while reading a book to your kiddos. Or you could bring the popcorn along as a snack for some of your favorite fall activities (corn maze, anyone?).
What are some of your favorite fall snacks?
---
Speaking of fall activities, I am also on the Tommy Nelson blog today talking about some
ways to use fall fun to talk to your kiddos about the Lord
. I'd love for you to stop over there and say "hi"! I'm also happy to say that Tommy Nelson is giving one of you a copy of
"It Will Be Okay" by Lysa Terkeurst
, which I reviewed earlier this month - it's an adorable kids' book, and perfect for fall. Enter below!
It is officially fall! Like so many people, fall is my favorite time of year, and I just feel like it is worthy of some type of celebration. This is the first year in two years that we haven't had some type of baby-related celebration to plan in the fall, so I was itching to do some kind of gathering. I decided to throw a party, and the start of Autumn was a good enough reason for me!
I have a lot of fun planning our parties and figuring out how to make it cute without spending a ton of money. I have to say, this was probably the easiest party we've had when it came to planning and decorating, because I had so many items already. I think simple touches add a lot to a party atmosphere and help to make it memorable.
Without further ado, here are the pictures of our party.
I like sending out invitations to our parties. It makes it seem more official to me. I don't know about you, but I am much more likely to attend a gathering if I get an invitation in the mail, as opposed to email. That's just me. So I almost always send out paper invites.
I made these invitations myself. Several years ago I bought a couple boxes of plain colored cards and envelopes from Target, and that purchase has served me so well - I make so many invitations just from the cards in those boxes! For these invitations, I created a graphic in Photoshop and had it printed up at Staples (I think it cost five dollars or so). Then I cut it out to fit into the colored envelopes I had, and sealed the envelopes with some fun wash tape.
I kept the decorations really easy for this party.
-I bought some fake
leaves
from Hobby Lobby for a few dollars and hung them from the light fixtures with thread.
-I got some paper
straws
- they are fairly cheap and so festive! I stuck them in a mason jar and tied some raffia around it with a scrapbook-paper leaf cutout.
-I made a leaf
banner
using scrapbook paper, double-sided tape, and glitter (
using this glitter method
). The banner took the most time, but I did it with the kids, so it doubled as a fun craft activity!
-I lit some of my fall scented
candles
.
-The
apples
doubled as an activity for the party and a decoration.
-I made
labels
for the food and activities (see below) using our printer, scrapbook paper, and some of the notecards from the Target notecard box.
I've come to realize that I go a little overboard on food for my parties - but it's better to have too much than too little, right? We called this party a "fall barbecue", so for the main meal we had burgers and brats - then I made a few other goodies.
-
Pumpkin Fluff Dip
. Oh my goodness, this was so good. We used the dip with apples and crackers, and it tasted great. I think I am going to have to make this one again before the fall is over - the picky eater in the family, who shall remain nameless, actually ate apple slices with this dip. It's a winner.
-
Pumpkin Blondies
. I thought this recipe was really weird (no baking soda or baking powder - what?), but the bars actually turned out really well.
-
Leaf chocolates
. My own experiment, using Candiquick, flavoring, and leaf-shaped candy mold. I thought they tasted good, but I didn't have any red food coloring when I made them, so I was bummed I didn't get to make any orange leaves. Oh well.
-
Candy Corn Fudge
. I used a white chocolate fudge recipe that I have had for years, and I just split up the batch into three bowls and added food coloring. The idea is to layer the different colors like candy corn, but I realized I should have let the layers set a bit first before mixing. It ended up having more of a marble effect, but I think everyone still got the idea.
-
Pumpkin Pie Popcorn
. Another experiment of mine, using brown sugar, coconut oil, and pumpkin pie spice. I liked it, but the recipe could use some tweaking before I share it.
My philosophy is that if I am inviting different people to my party who don't know each other, I should have something to break the ice and keep the guests busy. I don't want anyone to feel awkward, or as if there is nothing to do if they don't know the other guests. So we came up with some activity ideas - here is what we did:
-
Caramel Apple Station.
I hardly ever make caramel apples, so this was fun to me! I made it easy on myself and bought caramel apple wraps, and some nuts and chocolate chips to add to the outside of the apples. Bonus: the bowls of apples on my counters also added a nice decorative element!
-
Candy Corn Guessing Game.
The traditional game of guessing how many candy corn pieces were in the mason jar. Everyone wrote down their guesses, and the person with the closest guess received a prize ($5 Starbucks gift card - aren't those leaf gift cards cute?).
-
Find The Pumpkins.
I bought five mini pumpkins and hid them around our house, inside and outside. Once someone found all five pumpkins they wrote down the locations of each pumpkin and dropped their entry into a mason jar. Then I shook up the entries and picked a winner. I gave out another Starbucks card for a prize. Everyone who played had fun with this game, and it definitely kept the kids busy as well!
-----
As I said before, I think this was one of the easiest parties we've thrown! It all came together pretty seamlessly, and we planned ahead a bit more so we could just relax and visit when everyone arrived. I was really happy with the way everything turned out. A party doesn't have to be super elaborate or expensive to be festive and fun!
Yesterday we woke up to a beautiful white blanket outside. Alas, I cannot stay home and enjoy it again today (work, you know), but yesterday was just cozy and lovely. So just for fun, I thought I'd post my snowy day must-haves.
------------------------
1. Candles. You cannot have a snowy day without lighting every candle you own. At least that's my philosophy. Preferably they are Yankee candles, because then the yummy scents will permeate your entire house.
2. Hot chocolate! Or a hot beverage of your choice. Self explanatory.
3. A fire. In the wood stove of course. The crackling adds a lot to the ambiance.
4. A big, cozy sweater. Time to dig it out of the dresser!
5. Jello. I might be the only person on earth who does this, but I like to mix Jello with fresh snow and make my own snowcone-in-a-bowl. I'm telling you, it's good stuff. Lime is my favorite.
6. A good book. I'm reading Stars Collide by Janice Thompson right now, and it's pretty cute. I think a Mary Higgins Clark mystery is next on my list.
7. Christmas music! Of course! I think this one is on my list to buy this year:
8. Adorable children playing quietly on the floor. Okay, you can enjoy a snowy day even if you don't have kiddos. And having them play quietly is a rarity. But happy little voices are the highlight of these winter days to me.
----------------------
What are your snowy day must-haves?